SAY GOODBYE TO DIFFICULT PROJECTS!
This flexible extension set can be bent, twisted, and rotated to fit in tight spaces at many different angles. Use this drill to fit into small spaces and tiny gaps where your hand can't fit. It's incredible for installation work, DIY projects, and home repairs.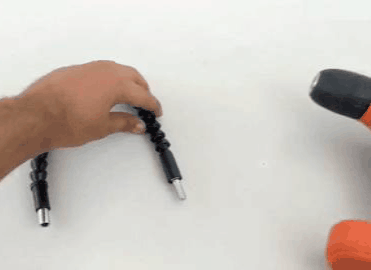 FIX OR REMOVE SCREWS IN INACCESSIBLE AREAS!

Have you ever needed to get to a screw that's located in a small space but you just don't know how?
This Flexible Drill Bit Extension is the ultimate solution for all your problems!
It's perfect for all the small & difficult spaces where traditional drills can't get to. Also, it's suitable for computer chassis, electrical cabinets, furniture, electrical appliances, and other places where normal screwdrivers will not work.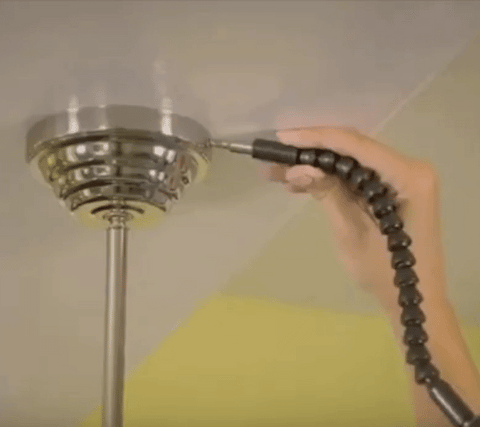 It is made of high carbon steel which is durable and flexible to use.
The comfortable shield greatly protects your hands with freely rotary internal shaft.
Both ends of the shaft -The hexagon drill bit holder and connection fit drills well. The great combination is suitable for ordinary hand drill and electric drill with perfect performance.
It is of great flexibility to bend, twist and straighten even in narrow confined space. Besides, the shaft can make turns randomly. It is also good for transport and storage.
The extensible soft shaft is designed for ordinary hand drill and electric drill bit.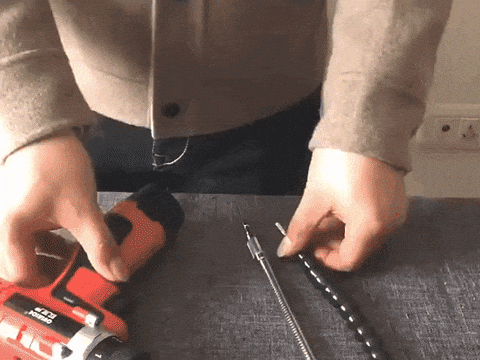 FEATURES:
The flexible black casing safely protects your hands while allowing you to grip the extension and bend it into place.
 Compatible with Cordless Screwdrivers, Pneumatic Screwdrivers, Torque Drills, & Electric Screwdrivers.
 Exquisite craftsmanship, high-quality polymer, and metal materials combined to produce a top-notch and time-efficient tool!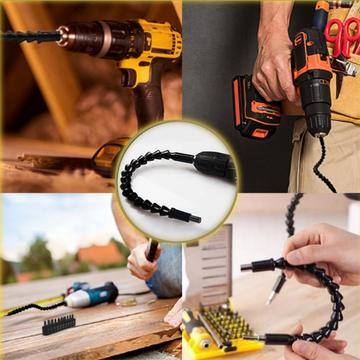 The 11.8-inch shaft's incredible flexibility allows it to bend, twist, and straighten in even the most confined spaces. Our pliable extension can also crumple and rotate at many different angles. It is an essential tool for hardware maintenance.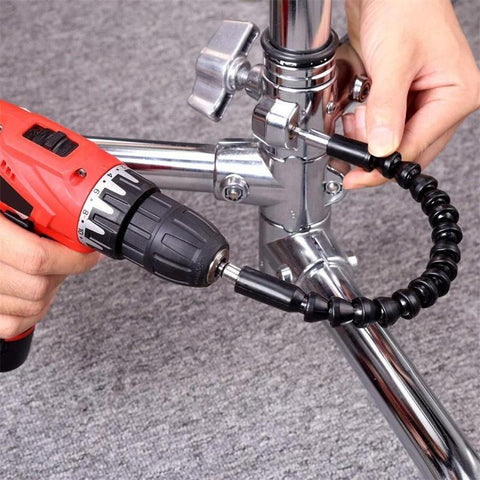 UNIQUE, MULTI-PURPOSE TOOL
Our flexible drill bit shaft has a wide range of uses. For example, it's compatible with a low-speed hand drill, torque drill, etc. We also provide you with a variety of sockets and screwdriver bits so you can use the connecting rod. This allows you to connect the handle or other electric drills. It can easily enter dead corners, narrow spaces, and any other places that a common screwdriver can't. Some of these places include computer chassis, furniture, electrical appliances, etc.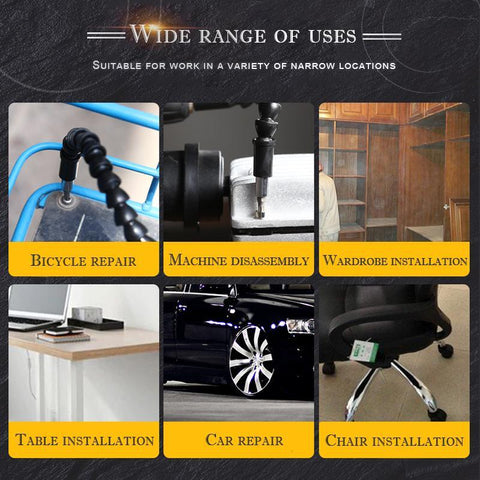 SPECIFICATIONS:
Certification: CE

DIY Supplies: Woodworking

Is_customized: Yes

Material: Plastic + Metal

Chucks securely into drill/drivers, impact drivers, and ratchet screwdrivers.

Will not rust.

High strength and hardness.

Easy to use.

Durable in use.

Size: 295mm/400mm

Uses: For use in hand drill chuck and power screwdrivers.

Suitable for Computer cases, Furniture, Bicycle, Auto Body Work, etc

100% new high quality