✅Satisfaction Guarantee within 30 Days.
✅Returns >> Fast refund, 100% Money-Back Guarantee.
✅Worldwide Express Shipping 10-20 days.
✅FedEx Private Line. Los Angeles, London Stock,etc

HOT SALE NOW:The price is limited.BUY TODAY as the promotion available🔥
Customize the dog harness to make it easier for your pet to tell the difference!

You can enter your pet's name, or any text.

You can enter your phone number. Prevent your pet from missing!

WHY WE HAVE THE NO.1 RATED PERSONALIZED DOG HARNESS
The secret to your hassle-free experience with your best friend. With custom identification on both sides and breathable, sturdy, strong material.
The no-pull harness makes sure you no longer hurt your dog's neck or cause them general discomfort.
93% of customers reported that they feel a lot safer walking their dog knowing that they could be identified during an emergency.

Whilst 35% followed up with a message expressing how much it has helped them and their dog.

PRODUCT HIGHLIGHTS

KEEP YOUR DOG COMFORTABLE & PREVENT INJURY -
This harness prevents general discomfort, strangulation, limb or mouth injuries, skin problems & neck damage. The no-pull harness goes around your dog's body instead of their neck to keep them comfortable & happy.

EASY ON, EASY OFF - A hassle-free experience, quickly & conveniently get your dogs harness on & off in a matter of seconds. Simply put the harness over your dogs head & fasten the clip, then they're ready to go.

IMPROVE YOUR DOG WALKS - It's easier & more comfortable for your dog to walk with a harness so they will enjoy their walks much more. It also makes it much easier for you to walk your dog.

KEEP YOUR DOG SAFE - The harness keeps your dog locked in safe & secure, so you can easily control them. The reflective front strap & strips also makes your dog visible to keep them safe at night.

PREVENT YOUR DOG FROM GETTING LOST - You can personalize your dog's harness with a Name & Phone number, so they can easily be returned to you if they get lost.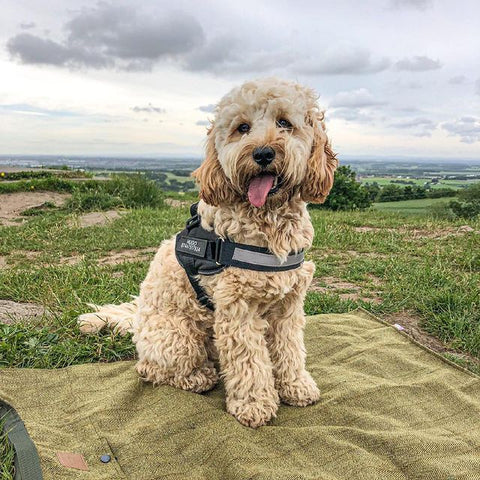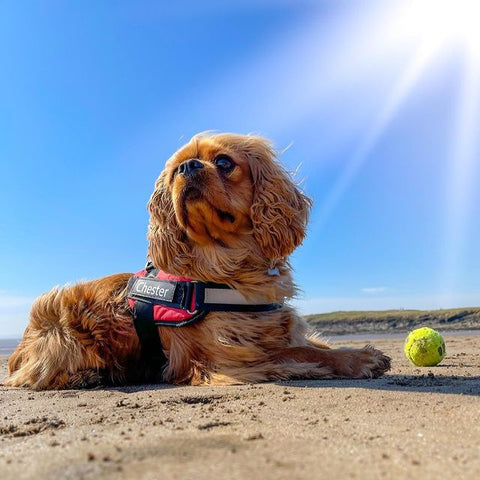 REDUCE RESTRAINT & ANXIETY - The easy-on neck and chest straps are adjustable, so it will not give your dog a sense of restraint and anxiety, as most standard collars do.

SIMPLE & EASY ATTACHMENTS - The stainless steel D-ring makes it easy to attach your leash, rope, or other restraints to your harness.

PREMIUM QUALITY - Our harnesses are made from high quality, padded material for the most comfortable experience for your dog. Our harness's fabric is durable & made to resist tearing.

EASY PICKUP NYLON HANDLE - Each harness has a nylon handle built into the top for easy grab to pick up your pet.